Council Bushcare Representative Group – Wednesday 24 July 2019

Page 1
BR19.2 Bushcare Program Update
HPERM Ref: D19/217868
Group: Planning Environment & Development Group
Section: Environmental Services
Purpose / Summary
Provide Council with an update on the Shoalhaven Bushcare Program
Recommendation (Item to be determined under delegated authority)
That the Shoalhaven Bushcare program update report be received for information.
Options
1. Receive the report for information.
Implications: There are no implications in this regard.
2. Provide an alternative recommendation
Implications: This will depend on the nature of the recommendation.
Update
Bushcare Groups
There are 57 Bushcare Groups known to be active across the Shoalhaven Local Government Area (LGA) and 700 volunteers are registered with Council's Bushcare Program.
At the time of writing, working bee record sheets have been received from 29 groups during the 2018-2019 financial year. A further request for record sheets is being sent to the group coordinators. For the sheets received, 5240 hours of volunteer time has been recorded, equating to a value of $157,200 in labour.
The volunteer hours recorded for the past 10 years to the end of 2018, since data has been routinely collected, indicate a typical number of hours but a lower number of groups reporting for the 2018 calendar year. Twelve additional groups are known to be active but have not reported hours.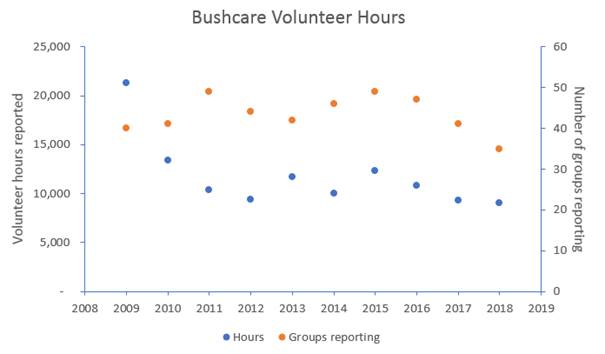 The total of the recorded hours is 117,600 hours for the 10 years, translating to over $3.5 M of labour.
Council continues to support the work of the Bushcare Groups through the employment of a full-time Bushcare Team Leader and three Bushcare Field Officers, with a total of 37 Bushcare Groups across the Shoalhaven routinely supported by these officers. This is three more than 12 months ago, with additional support being provided to the Shoalhaven Heads groups.
The Red Head Villages Group is currently undergoing a renewal, focusing on Manyana and Cunjurong Point. The group has been largely inactive over recent years. However, there are around ten new registrations and the group has recommenced monthly working bees with the first early in July.
A new group was established with students from Alesco school, based at Vincentia. This group will continue work at the site adjacent to Huskisson Holiday Haven ('Winnima Wetland') where previously Vincentia High School Bushcare worked.
As resolved by Council, a new Dunecare group has been formed for Collingwood Beach. At the time of writing, no working bees have been held, but there have been a small number of registrations. Council has voted to allocate $7,000 in the 2019/2020 budget to provide support for the Collingwood Dunecare Group.
One group has become inactive in the past 12 months – the Frogs Hollow group at Bomaderry (Illowra wetland area), due to a decline in group numbers.
Aboriginal Bush Regenerators
During the 2018/2019 financial year Council approved additional budget funds to employ two permanent part-time (2 days a week) Indigenous Bush Regenerators. These positions will continue to actively support the work of the Bushcare Groups and assist with the management of Council's Natural Area reserves.
Interviews were held in November to fill the two permanent part-time positions created for Bush Regenerators. The Ganger position was filled at that time with the skilled labourer position recently appointed to this position. These designated Aboriginal positions were created following a Mayoral Minute (MIN17.1067) and replace two fixed-term positions that have been employed since 2008 and funded through external grant funding.
Engagement with Aboriginal Land Councils
Following the resolution of the Bushcare Representative Group (BRG) at its meeting of 4 December 2018 (Item BR18.10), letters were sent to three Local Aboriginal Land Councils (Nowra, Jerrinja and Ulladulla) to invite participation in an event or gathering in partnership with Bushcare.
These letters were followed up by phone calls. Whilst there was no event or gathering that came directly from these efforts, good discussions were held which can form the basis of ongoing engagement.
There have been several events which Bushcare staff have been involved in since the last BRG meeting:
· Attendance of two Bushcare Field Officers and one of the Aboriginal Bush Regenerators at the 'Firesticks' forum in Ulladulla.
· Involvement of the Jerrinja community in the revegetation works to protect middens at Kinghorne Point
· Working with the Jerrinja community and the Office of Environment and Heritage to install temporary midden protection works at Cudmirrah
· Peter Swanson (Bushcare Coordinator) and Cate Brooks (Bushcare Field Officer for southern area) attendance at Cultural Heritage awareness training.
Further opportunities to engage with Aboriginal Land Councils will continue to be sought.
Bushcare Group Action Plans
The following four Bushcare Group Action Plans have been reviewed and adopted by Council:
· Warden Head Bushcare Group Action Plan – Ulladulla (April 2019)
· Bangalee Reserve Bushcare Group Action Plan – Bangalee (April 2019)
· Grotto Reserve Bushcare Group Action Plans – North Nowra (June 2019)
· Camp Quality – Bundewallah Creek Bushcare Action Plan (June 2019)
The following plan has been drafted and will being circulated for internal review at the time of writing, prior to public exhibition:
· Millards Creek Bushcare Action Plan – Ulladulla
The following plans are currently being reviewed:
· Basin Bushcare Group Action Plan – St Georges Basin
· Bomaderry Creek Bushcare Group Action Plan – Bomaderry
Shoalhaven Bushcare Program 2019 Events and Highlights
The following is an overview of the relevant events and program highlights:
· Links to Learning program at Vincentia High School – rehabilitation planting as part of the Heritage Estate Erosion Project – May 2019
· Correctional Services crews undertaking weed control at Moeyan Hill
· Plantings completed at Bushcare sites so far this year include: Hyams Beach, Mia Way Culburra, Basin Walking Track, Huskisson Bushcare Group, Narrawallee Foreshore, Bomaderry Creek, Camp Quality (Bundewallah Creek, Berry), Millards Creek (Ulladulla) and Vincentia.
· Cultural Heritage restoration works at Kinghorne Point and Cudmirrah
Shoalhaven Bushcare Program Projects
The following funding applications were submitted so far in 2019:
· Final report completed for the Bomaderry Zieria Recovery project with OEH. The key outcomes of the project were as follows:
1. Installation of fencing to prevent grazing;
2. Initiation of a monitoring program that will continue to 2020/21 to assess the health population
3. Collection of information related to the 2017 trial burns and the 2018 bushfire;
4. Good working relationships have been established between NPWS, OEH, SCC, Bomaderry Creek Landcare Group and the Trust, which will help with future work, especially related to the all-important ex-situ population of plants.
External funding applications
The following funding applications were submitted so far in 2019:
· Three expressions of interest under the 'Community Environment Program' via Ann Sudmalis's office – Currarong (weed control), Lake Wollumboola (fox and weed control), and Tallyann Point (Access stairs to reduce erosion and improve access).
· Our Community Project – Council is seeking funding of $25,000 interpretive signage for the Grotto. This project and other accepted proposals will go to a community vote, based on State electorates, between 15 July and 15 August 2019. Residents (over 16 years of age) are eligible to vote. To vote go to www.nsw.gov.au/improving-nsw/projects-and-initiatives/my-community-project/
Shoalhaven Bushcare Program Communications
Along with routine communications with groups and volunteers, the following specific targeted communications were undertaken:
· Summer edition of Bushcare Links newsletter produced.
· Environmental Expo, presence with Shoalhaven Landcare Association and assisted Natural Areas 'X-box' stall)
· Maintained membership and attendance at meetings of Shoalhaven Landcare Association.
· Support and communications around NatureMapr – Atlas of Budawang Coast.
· Attendance at Berry Small Farm Field Day in September 2018.
Shoalhaven Bushcare Program Photos
The following photographs relate to some of the activities and events discussed above, along with routine activities.
| | |
| --- | --- |
| Post-fire re-growth Bomaderry Creek (January 2019) | Site visit - Callala |
| Tree down – The Grotto | Sea of Kangaroo apple (was Lantana) - Bangalee |
| Revegetation at Milton Rainforest | Planning for National tree Day – Broughton Vale |
| Hyams Bushcare group caring for their dunes | Vincentia Bushcare installing understorey, trialling biodegradable guards |
| Bomaderry Creek – old tip site replanting | Well-deserved cuppa – Bomaderry Creek |
| Midden protection works - Cudmirrah | Midden protection works – Kinghorne Point |
| Mia Way – site visit | Shoalhaven Environmental Expo |
Council Bushcare Representative Group – Wednesday 24 July 2019

Page 1
BR19.3 Review of Bushcare/Parkcare Procedures
HPERM Ref: D19/220263
Group: Planning Environment & Development Group
Section: Environmental Services
Attachments: 1. Draft - Bushcare/Parkcare Procedures ⇩
2. Bushcare Procedures Workshop 4 December 2018 ⇩
Purpose / Summary
To provide information on the review of the Bushcare/Parkcare Procedures and seek endorsement of the reviewed procedures.
Recommendation (Item to be determined under delegated authority)
That Council endorse the Shoalhaven Bushcare/Parkcare Procedure, with the amendments outlined in this report.
Options
1. As per recommendation
Implications: Council Bushcare/Parkcare Procedure is updated and relevant to the changing programs and legislative changes.
2. Adopt the recommendation, however request further changes to the procedures
Implications: Council Bushcare/Parkcare Procedure is updated and relevant and changes are made, as suggested by the Bushcare representative Group
3. Not adopt the recommendation
Implications: Council current procedures will remain outdated and not in-line with current changes to the programs and legislative changes.
Background
The Bushcare/Parkcare Policy and Procedures were separated in 2018, when a separate policy document was adopted by Council on 28 June (MIN18.518).
A workshop was held on 4 December 2018, with the Bushcare Representative Group (BRG), to determine the changes required to the Bushcare/Parkcare Procedures. This review of the Bushcare/Parkcare procedures was overdue, as the procedures have not been updated since 2009.
The Bushcare Representative Group workshop identified that there were improvements needed in the following areas of the procedures.
1. Volunteer/Group matters;
2. Bushcare sites management;
3. Bushcare Group Action Plans;
4. Program Administration;
5. Partnerships.
The areas for improvement and changes identified in the workshop are listed below with a description of how these have been addressed in the draft reviewed Procedures (attached).
Volunteer/Group matters
| | |
| --- | --- |
| Issue | Changes made |
| Selection of group coordinator – improve procedure | Section 3.1, essentially by agreement of members, with a majority in agreement |
| Deputy group coordinator (i.e., having a deputy has worked well) | Section 3.1, have included |
| Pre-existing conditions of volunteers (needs to be addressed) | Section 2.3, need to be disclosed, perform appropriate tasks as per assessment |
| Age of volunteers - guidelines on physical capabilities of volunteers | Section 2.1 – Age range of volunteers, disabilities and carers of volunteers has been added |
| Working alone - realistically volunteers are working alone - needs to be based on risk of activity. | This is an SCC-wide WHS rule, not Bushcare Procedure |
| Improvements in training, e.g. first aid and conflict resolution | Section 5 - Additional training added |
| How long does volunteer need to be a volunteer to get training? | Section 5.3 Not directly a factor. |
| Opportunities for Bushcare Group coordinators to meet | Section 4 New addition |
| Area wide opportunities to meet and network | Section 4 New addition |
| Clear information on what the physical requirements of Bushcare volunteering involves | Section 2 Text added, recognising that a variety of tasks can be undertaken and inclusion |
| How Bushcare Groups relate to elected representatives and the community | Not procedural. Addressed largely in the SCC Volunteer Handbook |
Bushcare sites
| | |
| --- | --- |
| Issue | Changes made |
| Demonstrate improvements in the environment | Section 7 added |
Bushcare Group Action plans
| | |
| --- | --- |
| Issue | Changes made |
| Include monitoring & evaluation | Section 7 added. Text added to Section 6.1 |
| Condensing Bushcare plans to make them usable | Section 6 revised |
| Provision for working outside area of action plans | Sections 1.2 and 3.1 |
| Ability to work on the other land tenures - other than SCC | Section 6.1 Advice received that Council's insurance covers volunteers on other land tenure. Provided there is written agreement required by the land owner/manager or grant funding agreement |
| Community consultation requirements too prescriptive needs review | Section 6.2 revised |
| Bushcare Action Plans too prescriptive | Section 6.1 revised, the general structure reduced. Plans can be written to be specific or general under the framework listed |
Program administration
| | |
| --- | --- |
| Issue | Changes made |
| Procedures for use of external funding and equipment | Section 8 addresses funding. Section 10.3 addresses equipment |
| Reimbursement for out of pocket expenses (needs to be documented) | Section 8.7 new section |
| Media - no provision for social media/websites, etc | Section 12.2 new section |
| Pile burning - update procedures to conform with RFS | Section 11.3 revised text to reference RFS website |
| Use of herbicides on-site procedures | This is covered by the Volunteer Induction Handbook and NSW Pesticides Act |
| Guidelines on how long a volunteer is registered when not active | Section 2.6 new section |
| Use of power tools - reasonable use | Section 10.1 text amended regarding hand-held tools |
| Improvement in respect for Bushcare volunteers by Council | This is a matter of culture that cannot be addressed directly in the procedures |
| Monitoring and record keeping | Sections 3.2, 6 and 7 text added |
| The representativeness of the Bushcare Representative Group | This is not a procedural matter, needs to be addressed at the committee level |
| Improvement in technology and new volunteers register | These are tools that can be used to implement the Procedures and do not need to be listed within the Procedures |
Partnerships
| | |
| --- | --- |
| Issue | Changes made |
| Procedures for establishing partnership | Section 4 development of an engagement plan annually |
| Involvement with Community Justice – guidelines/procedures needed | Community Justice not specifically addressed, refer to engagement plan Section 4 |
| Working with schools and required working with children checks | Section 2.1 and 2.2 |
| Working with correctional services | Section 4 |
| Sharing information | Section 12 amended |
| Acknowledgement of, and working with traditional landowners | Section 4 |
Policy Implications
The revision of the Bushcare/Parkcare Procedures is for the improved implementation of the revised Bushcare/Parkcare policy. The Bushcare/Parkcare Procedures are, essentially an operational document, however they are informed and guided by the Bushcare/Parkcare Policy.
Financial Implications
There are no new financial implications indicated from the revised policy. The Procedures will be delivered within existing operational budgets.
Risk Implications
The endorsement and implementation of the revised Bushcare/Parkcare Procedures will address and substantially reduce program risks.