Minutes of the Regional Development Committee – Tuesday 9 August 2016

Page 1
MINUTES OF THE REGIONAL DEVELOPMENT COMMITTEE MEETING HELD ON TUESDAY 9 AUGUST 2016, IN THE COUNCIL CHAMBERS, CITY ADMINISTRATIVE CENTRE, BRIDGE ROAD, NOWRA COMMENCING AT 5.54PM
The following members were present:
Clr Gash – Chairperson
Clr Tribe
Clr Kearney
Clr Baptist
Clr Wells
Clr White
Clr Findley
Clr Guile
Russ Pigg – General Manager
Others Present:
Tim Fletcher – Director Planning and Development Services
Cathy Bern – Section Manager, Development Services
Andrew Lissenden – Development Co-ordinator
Sara McMahon – Governance Manager
Jessica Rippon – Executive Communications Strategy Manager
Alison Turner – Media Manager
Apologies:
Apologies were received from Clr Kitchener, Clr Anstiss
REPORT OF GENERAL MANAGER
1. Regional Development Application for an Indoor sports centre, car parking, landscaping and associated infrastructure - Lot 2 DP 130891 (No.84) Cambewarra Road and Lot 2 DP 2886 Sec 2 Cambewarra Road, Bomaderry.
Applicant/Owner: Clarke Keller Architects/Shoalhaven City Council File: RA15/1001
MOTION: Moved: Wells / Second: Guile
RESOLVED that the Regional Development Committee support the recommendations from staff to the Joint Regional Planning Panel (JRPP) recommending approval and advise the JRPP accordingly.
CARRIED
There being no further business, the meeting concluded, the time being 5.57 pm.
Clr Gash
CHAIRPERSON
Regional Development Committee – Monday 14 November 2016

Page 2
RD16.1 Regional Development Application – Multi storey carpark - Lawrence Ave / Worrigee St / Berry St, Nowra
DA. No: RA15/1000-02
HPERM Ref: D16/351341
Group: Planning & Development Services Group
Section: Development Services
Attachments: 1. Planning Report to JRPP - RA15 1000 (2015STH014) ⇩
Description of Development: Multi-level public car park (5 levels) providing for 625 car and 21 motorcycle parking spaces
Owner: Shoalhaven City Council
Applicant: Shoalhaven City Council
Notification Dates: 2 September 2015 – 5 October 2015
No. of Submissions: 24 submissions and 2 petitions in objection
Purpose / Reason for consideration by Council
To review the staff section 79C Assessment Report which has been submitted to the Joint Regional Planning Panel (JRPP) for conisdration at it's meeting on 14 November 2016.
Recommendation (Item to be determined under delegated authority)
The report is submitted for consideration.
Options
1. Support the staff recommendation to the Joint Regional Planning Panel (JRPP) Southern Regional recommending conditional approval and advise the JRPP accordingly.
Implications: The recommendation would be provided to the JRPP for their information as part of their consideration of the regional application.
2. Make an alternative decision and make a separate submission to the JRPP.
Implications: The alternative resolution would be provided to the JRRP fo rthier consideration.
Either way, the JRPP will be determining the application.
Location Map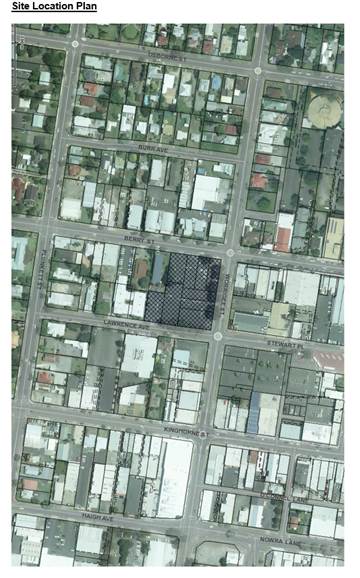 Proposed Development
The development application (DA) proposes the construction of a multi-level car park comprising the following (summary only):
1. Five (5) levels with the building having a maximum height of 15.5m;
2. Car parking for 646 vehicles (625 car parking and 21 motorcycle parking); and
3. Associated works including drainage and landscaping.
Subject Land
The development site:
o Comprises nine parcels of land legally identified as Lot 1 DP 738675 (No.56) Berry Street, Lot 1 DP 738687 (No.58) Berry Street, Lot 2 DP 738687 (No.60) Berry Street, Lot 5 DP 537780 (No.62) Berry Street, Lot 4 DP 537780 (No.1) Lawrence Avenue, Lot 3 DP 530250 (No.3) Lawrence Avenue, Lot 12 DP 738683 (No.76) Worrigee Street, Lot 13 DP 738683 (No.78) Worrigee Street and Lot 1 DP 738686 (No.80) Worrigee Street, Nowra that are owned by Shoalhaven City Council;
o Has an area of approximately 5,945m²;
o Is adjoined to the north by Worrigee Street, east by Lawrence Avenue, west by Berry Street and to the south by a residential development ("Berry Court" containing 8 units – See Photo 1) and a single storey community facility (Nowra Community Health Centre);
o Currently contains an at grade car park containing 193 car spaces that has vehicular access from Worrigee Street, Berry Street and Lawrence Avenue;
o Is zoned B3 – Commercial Core under the Shoalhaven Local Environmental Plan 2014 (SLEP 2014);
o Slopes from the south western corner to the north eastern corner with an overall fall of approximately 3.5m;
o Is serviced by electrical, water and sewer infrastructure;
o Is impacted upon by a sewer easement; and
o Is owned by Shoalhaven City Council and is classified under the Local Government Act as operational land.
History
a) The need for a multi-level car park is underpinned by a number of parking studies that have been undertaken for the Nowra CBD. A study carried out by Cardno Eppell Olsen Consultants in 2003 projected that 1,000 additional parking spaces would be required for the Nowra CBD by 2016. A further study by Monaro Consultants in 2007 reviewed the earlier study projecting that 1,182 additional spaces would be required by 2016.
In June 2011, Council established a Nowra CBD Car Parking Development Committee to advise Council on car parking issues in the Nowra CBD. The Committee included Councillors, Council staff and local business and community representatives. The aim of this Committee was to review all options for new parking areas and provide advice to Council. Council resolved 16 August 2011 (Minute 11.824) that:
Council staff work with the community representatives of the Nowra CBD Car Parking Development Committee, separate from the committee meetings, to determine the long term car parking options for the Nowra CBD...
Subsequently, Council staff and designated representatives developed an options matrix, based on agreed locations and agreed criteria/weightings. The outcome was reported to Council through the Nowra CBD Car Parking Development Committee. Council resolved 26 June 2012 (Minute 12.741) that:
The Nowra CBD Car Parking Committee continue with the stated position of Council that the preferred location for a multi storey car park in Nowra be Berry/Worrigee Streets.
In May 2013 Council received a petition signed by 2000 people stating that there is an urgent need for additional car parking spaces in Nowra CBD area. The petition requested that Council undertake action to build a multi-level car park at the Worrigee Street car park.
In June 2013 Council resolved that a further:
report on options for the location and design of a multi-level car park in Nowra'; and to 'have a councillor briefing on this matter that also involved members of the former Nowra CBD Car Parking Committee'.
At a subsequent meeting on 20 August 2013 Council re-affirmed that the preferred location for a multi-level car park was the Worrigee / Berry Street site. At its meeting of 3 September 2013, Council resolved:
That in reviewing the options for satisfying the shortfall in all day car parking within the CBD and in assessing the alternatives, in particular Stewart Place and Worrigee/Berry St car parks, that Council sets a minimum requirement of providing an additional 400 all day car parking spaces over all existing spaces.
A Planning Proposal (LP 410) and draft Development Control Plan (DCP) Chapter for the Nowra CBD Building Heights and Urban Design Development Controls is on public exhibition until 16 December 2016. Gateway determination occurred in September 2016. This seeks to introduce new maximum building heights for the Nowra CBD that were identified in the Nowra CBD Urban Design Development Controls Report. An approximate timeframe for finalisation and notification of the plan is May 2017 (see further commentary later in this report).
If this amendment were to be adopted this would result in a maximum allowable building height of 15m for the majority of the subject site and 12m for the southernmost property.
Issues
In summary the key issues associated with the application include:
· Height
· Overshadowing
· Design and visual impact; and
· Tree removal.
Planning Assessment
A detailed discussion of the key issues is contained in the attached section 79C Assessment report. The report also includes a draft determination notice (conditional consent) and plans. This report has been submitted to the JRPP.
Policy Implications
A key policy consideration is height. Currently, there is a 11m height limit which applies to the site. The development proposal seeks to vary this protruding at the highest point to a maximum of 15.5m. The issue was addressed by the applicant via a formal clause 4.6 variation statement. The matter is discussed in the attached section 79C report in further detail.
Consultation and Community Engagement:
The application was been exhibited in accordance with Council's Community Consultation Policy for Development Applications (including subdivision) and the Formulation of Development Guidelines and Policies – Amendment 7. As such, the application was notified as follows:
o Individual property owners within a 200 metre radius of the site were notified of the proposal as well notification to the Shoalhaven Business Chamber (398 letters sent). The notification period was from 2 September 2015 to 5 October 2015 (33 days);
o The proposal was advertised in the local press on one occasion (South Coast Register on 2 September 2015);
o Two notices/signs were placed on the land to which the application relates (one sign placed adjacent to the Berry Street frontage and one sign placed adjacent to the Worrigee Street frontage of the development site); and
o The application and supporting documentation were on display on Council's website.
Twenty four (24) submissions were received by Council as well as 2 petitions signed by 132 people and 18 people. These are discussed in greater detail in Section 6 (Statement of Compliance/Assessment).
Issues
A number of issues arose as a result of the notification. They included (but were not limited to) the impacts of the development, notably on the adjoining Berry Court. This included overshadowing, loss of privacy, the car park being underutilised, adverse social impacts, health impacts on residents and visual impact of the development. Details are contained in the attached report.
Financial Implications:
In the event that the development is approved, Council will have to budget or program for the works.
Legal Implications
Any decision made by the JRPP could be the subject of legal challenge, either by the objectors or the application in the event that the result is not to their satisfaction. There would be cost implications if the matter was litigated.
Summary and Conclusion
As a result of a detailed section 79C Assessment, the proposal is recommended for approval. Recommended conditions are provided as an attachment to the 79C assessment report.