Addendum Agenda - Ordinary Meeting – Tuesday 26 June 2018

Page 1
CL18.161 Addendum Report - Integrated Strategic Plan - Additional Submissions
HPERM Ref: D18/208744
Group: Finance Corporate & Community Services Group
Section: Finance
Purpose / Summary
Provide Council with details on submissions received during the exhibition period, suggested responses and the impact on fees and charges, budget and/or the capital works program.
That:
1. Council adopt the changes detailed in this report for Chapters 4, 5 and 6 of the Integrated Strategic Plan.
2. The new fees not previously advertised, detailed below, be advertised for 28 days and adopted after this time, with any submissions being reported to Council.
3. The budget for income and expenditure for Holiday Haven is increased by $552,687
Options
1. Council decide, after considering all submissions to adopt the recommended changes to Chapters 4, 5 and 6.
Implications: Nil
2. Council decide, after considering all submissions to choose and adopt some of the recommended changes to Chapters 4, 5 and 6.
Implications: Nil
3. Council decide, after considering all submissions to not adopt the recommended changes to Chapters 4, 5 and 6.
Implications: Nil
Background
Shoalhaven City Council's draft Integrated Strategic Plan 2018/19 has been on exhibition for 28 days from 25 May 2018. The plan sets out how Council will work with the community to achieve its priorities and describes the key actions that will help achieve these priorities. Submissions received before Wednesday 20 June 2018 have been included in reports to the Ordinary Meeting; this report details the submissions received between Wednesday 20 and Friday 22 June 2018.
Submissions Received
1. Internal Submission - Chapter 4 – Page 13 – align the nominal charge for separated green waste with the fees and changes schedule ($6.20)
Response
Recommend adopting the change
2. Internal Submission - Chapter 4 –Council is now managing the animal shelter and the fees have been reviewed. The table below shows the recommended changes and new fees proposed. The large increase for the Dog/Cat Surrender fee is due to investigating the amount that similar shelters are charging. This fee was rarely charged by Council, but with Council now managing the shelter, the frequency for Council will increase and we need to ensure that it is comparable to other shelters and that it covers the costs associate with surrendering an animal.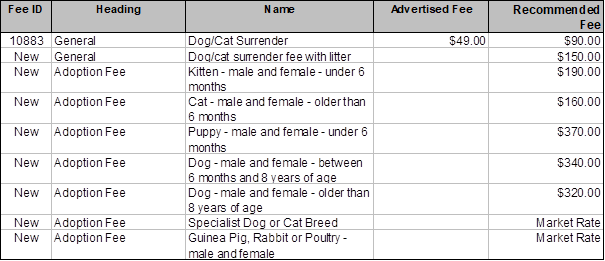 Response
Recommend adopting the change and new fees
3. Internal Submission - Chapter 5 – Increase the revenue and expenditure for Holiday Haven by $552,687 to fund additional advertising and contract payments. Income is expected to increase due to an increase in overall bookings received for the 2018/19 financial year.
Response
Recommend adopting the change
4. Chapter 5 – Road overpass or tunnel - Jervis Bay Road & Highway
Response
Council has approached RMS with options for the proposed intersection. RMS are fully aware of the issues at the intersection. A corridor study has been completed which means that the intersection is listed for intersection treatment (for example such as which is due for construction shortly Island Point Road)
5. Chapter 5 – Underground tunnel from south to north under Wool Road (somewhere near Naval College Road) for bikes, electric carts and pedestrians.
Response
There are no current plans to have this tunnel in this section as there are traffic signals at the intersection to the leisure centre entrance and there is provision for crossing point at the roundabout with a pedestrian refuge in place.
6. Chapter 5 – Slow down / Kids around (steel) safety signs at the intersections of road heads and cycle way along Collingwood.
Response
The Road safety officer will investigate this matter of providing more permanent signs.
7. Chapter 5 – Equipment for Citizen Scientist Kit.
Response
Further information is required from the Vincentia Ratepayers and Residents Association as to the type of scientist kit requested so it can be determined if Council should support and allocate budget.
8. Chapter 5 – Plantation Point playground (fencing, shade tent, drainage and a larger range of equipment to cater for all skill and ages), refurbish Plantation Point amenities block, drainage at the outdoor shower area, feeder paths to allow residents on Vincentia hill to safely walk to the main shared path and speed bumps in Minerva Ave to slow drivers down.
Response
The items involving new capital works, renewal and upgrades will need to be addressed in the longer term as they are competing for funding with other projects across the whole Shoalhaven. The maintenance items will be investigated.
Community Engagement
A community engagement process was undertaken with community information evenings being held and feedback being received during the 28 day exhibition period.
Financial Implications
Council's Fees and Charges Information and Schedule has a significant impact on Council's revenue. It is, therefore, important to ensure the right pricing structures are in place to ensure optimum recoveries are in place while meeting community obligations.
Chapter 5 of Council's Integrated Strategic Plan is a critical document that allocates funding towards works and services by Council to its community. It enables the many programs and services provided by Council to be adequately resourced.